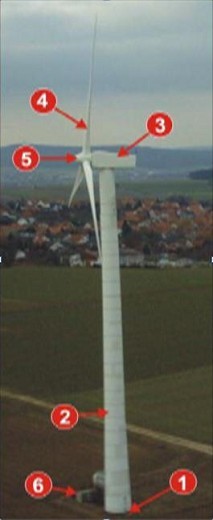 Wind energy is a converted form of solar energy. Solar radiation heats differently in certain areas of land area, the most distinguishable day to night. There are differences between the absorption of solar radiation on the extent of water over the land. These differences will translate into a different heating of the atmosphere. The temperature difference will generate the movement of air masses and the result of this movement is the wind. Mass air put in motion contains kinetic energy.
What is a wind power plant and how does it work?
A wind power plant converts kinetic wind energy into electricity or mechanical form which can be used for practice.
The structure of a wind plant:
Foundation
Tower
Nacelle
Rotor
Hub
Transformer connection to the electricity transmission
A modern installation has the following characteristics:
Installed power: 2.3 MW
Rotor diameter: 80 feet
Tower height: 105 meters
Annual energy production: 6000 MWh, representing the annual consumption of about 2000 homes
How much does a wind power plant cost?
The total cost of such facilities amounts to 1-1,5 million euros per megawatt installed. So if we take into account a 2.3 MW turbine, the total costs may reach up to 3.5 million Euro.
How much energy does a modern wind turbine produce?
The amount of energy produced depends on several factors. Wind speed, with rotor diameter and density of air movement are among the most important. Also, bear in mind that although a turbine operates approximately 90% of the time, it produces energy in proportion to 25-40% of installed power.
Thus, for a 2.3 MW turbine for the production of energy in a year will be between 5500 – 7000 MWh.
How is the development of wind power projects supported?
By law number 220 of 27 October 2008, the operating system and transport electricity monthly certificates issued to producers of green energy from renewable sources. For producers of electricity from wind power is granted two certificates for green 1MWh delivered the national network by 2015 and a certificate for green 1MWh delivered since 2016.
A green certificate is governed by law to a value between 27 and 55 Euro in the period 2008-2014 for trading on the bilateral green certificates.